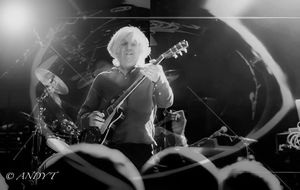 John Fannon is the Singer, Songwriter, Guitarist, and Co Producer of The 70s, 80s AOR Classic Rock Band New England, most famous for the 1979 Worldwide Top 40 and Classic AOR Hit "Don't Ever Wanna Lose Ya."  During those years John worked with many superstars in music, including the late Producer/Engineer Mike Stone of Queen, Asia and Journey fame, Todd Rundgren and Paul Stanley.


In 2013 John released his first solo album "Saved All The Pieces." Written, Performed, Produced and Engineered by John at his Recording Studio, The Explorer Suite just outside of Boston MA. You are listening to John's first single "just run." To hear more, please go to his web site Store…


You can also follow John on Facebook or Twitter
Updated News for all my fans! 
Thanks to all who made my "Grande Finale" at The Amazing Things Arts Center a very special night! The Saved All The Pieces tour is now completed and forever in my book of memories. So many great highlights including my Tokyo Shows, The Spire Center for Performing Arts, Club Passim, Bull Run, The Rockwood Music Hall and where it began and ended, 
The Am
azing Things Arts Center. For the next year, I will be doing what I love most, living in the studio, working on new music.  I will keep you all updated.  Cheers!
My first solo album "Saved All The Pieces" is available for download or CD purchase on my website store, iTunes, Amazon and
other digital music stores.
The album tracks, in order, Just Me And You, Just Run , Hearts Are Breaking, So Tied Up In You, Go On Your Way, Write Your Name, Saved All The Pieces, Go To The Sun, Running Easy, Give Me Love, and So Here I Am.