About John Fannon
John Fannon's parents gave him his first guitar…a black Silvertone acoustic…and at the age of 15 he set off on his long musical journey. After breaking his collarbone playing baseball in the spring of 1966, John began playing guitar for hours every day, and the transition from athlete to musician had begun. 9 months of relentless practice led to gigging in his first band, playing school dances south and west of his hometown, Boston.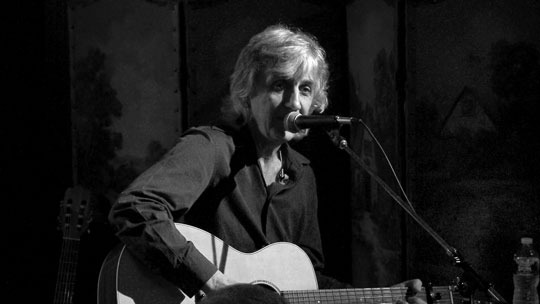 John studied Aerospace Engineering for 2 years at the University of Massachusetts before making the decision to leave school and play music full time. He was determined to become a recording artist. His first recording experience was at Atlantic Studios in New York City with his band Flash Pudding. Jeffrey Haslem, who produced the acclaimed Yes live album Yessongs, produced the session. Nothing came of those recordings, but with a taste of the studio indelibly imprinted on him, John's passion for music just got stronger.

In 1971 friend Bruce McPherson, who had just released his first album on GSF records, recruited John to play guitar. That band also included a young, talented drummer, the late Bobby Chouinard, who went on to play with Billy Squire. The Bruce McPherson band were together for about a year and gave John his first exposure to the big stage, opening for the Byrds, Hot Tuna, Curtis Mayfield, and many others.

As is so often the case with musicians, to pay the bills John became the short order cook at the legendary rock club The Groggery. His guitar was always with him in the kitchen and he frequently joined the bands on stage, gaining quite the reputation as a guitar player. The Hollywood rock group Adrian spotted John jamming one night at the Groggery and asked him to join the band. Bass player Prescott Niles went on to be the bass player in the Knack. Once again, it was a band that could not stay together and John had to move on.

In 1973 John joined the North Carolina band Fatback, who had recently moved to Boston. Fatback had never before had a guitar player; John was attracted to the band mainly because of keyboardist Jimmy Waldo, whose B3 and Mellotron had just the progressive sound John was looking for. The band also recruited Toronto transplant Hirsh Gardner on drums, and John took note of his aggressive, powerful style and high vocals. More "bottom" that the band was looking for in the rhythm section, came with Gary Shea on bass. Here, the nucleus of John's future band was forming. The four musicians of what would become New England were playing together for the first time, calling themselves "Target" then "Jack". With lead singer Kenny Mele, they played the northeast club scene - working on original music during the days.

That band broke up in 1975 when John was recruited to be the guitarist for RCA recording artist Annie McCloone. John convinced Annie and her management to recruit Jimmy Waldo on keyboards. After one album and some touring, this band, too, could not stay together. Frustrated, John decided to devote all his time to writing songs. He wanted to put together a new band where he could showcase as a guitarist, singer, and songwriter.

Months later he was ready to give it another shot. Bringing together the power of the sound John experienced with Jimmy Waldo, Hirsh Gardner and Gary Shea, New England was formed in 1976 with John handling the lead vocals. This time the plan was to just rehearse…no clubs…no performing…just woodshed…until they created a "sound" and secured a record deal. That plan worked in 1978, and in 1979 New England's first, self-titled album was released. The album was co-produced by Mike Stone, producer of Queen, Journey and Asia, and legendary rocker Paul Stanley of Kiss. The first single released from the album, "Don't Ever Wanna Lose Ya", became a classic top 40 and AOR hit. In support of their record, New England embarked on a North American summer tour with Kiss, followed by tours with Journey, Styx, Cheap Trick, and others.

In 1980 John co-produced the band's next release, The Explorer Suite, with Mike Stone. More touring followed, and in 1981 New England released Walking Wild, produced by Todd Rundgren. After another year of touring, the band members began to go in different directions and disbanded.

In 1983 John began producing other bands and also found a new niche in composing for TV and radio. This evolved into a long career doing sound design and post-production, for which he won a Post-Production Audio Engineering Emmy Award in 2007.

In 1990 John produced and arranged the hit remake of Alice Cooper's, "Only Woman Bleed" for the band Favorite Angel on Columbia Records.

In 1995 The Spanish Techno Artist Sensity World covered John's song "Get It Up", which was originally on New England's Walking Wild album. The song climbed to #1 in Spain.

John also has a successful history with artist development, producing, audio engineering and mixing, post audio production and continues to work on various projects at his Explorersuite Recording Studio.

Hit records. Successful jingles. An Emmy award. And the ever-present guitar…
John has now come full circle, with his long overdue, long awaited solo career, a new record, and upcoming solo performances. John Fannon Solo Project is here!